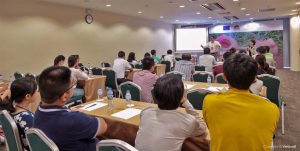 1. Seminar 
There are expected to be 4 seminars held during the fair to provide exporting businesses with trends and export potential to key markets for the product lines of the Fair.
• In the morning of October 19: Seminar on European market trends for interior decoration products
• In the afternon of October 19: Seminar on US market trends for houseware products and kitchen utensils
• In the afternoon of October 20: Seminar on BRICS market trends for textile and embroidery products
• In the morning of October 21: Seminar on new material trends for producing houseware goods and interior decor
Enterprises interested in participating in the seminar please register here.
The Fair Organizer is ready to organize other specialized seminars according to the needs of businesses participating in the fair and international buyers.
The conference room is arranged right in the fair space according to international conference room standards
2. Factory tour
The Fair Organizer will organize free daily factory tours for pre-registered importers. Factories are about 20 to 40 km away from the Fair, so visits usually take place during the day. The Organizer will arrange vehicles for importers. Tour guides and interpreters will also be arranged so that importers can best meet and transact with factories.
The list of factories will be compiled according to the importer's needs. The specific time and program of the tours will be announced in early September 2024. The factories arranged by the Organizer include
• Interior and exterior decor factory; bamboo and rattan products, lacquer, ceramics, and wooden furniture factory
• Housewares factory: Plastic housewares factory, metal housewares factory, home textile factory…
• Leather and bags factory
• Toys and Baby products factory
International importer wishing to participate in our factory tours, please register here.
The Organizers can also provide private factory tours for importers, the travel cost will be covered by the importers.
Factory tours only apply to importers, not to exhibitors.
3. Consulting service for importers
The Organizer arranges leading consultants in Vietnam, knowledgeable about the market and the manufacturers to advise customers on the following issues:
• Raw materials source for production, standard raw materials source
• Reliable source of goods supply
• Ability to link value chains to reduce costs and improve product competitiveness
• Opportunities to invest in production development and business linkages in Vietnam
• Issues related to the policies and orientations of the Government of Vietnam
Importers need to register in advance here with the Organizer to have the best preparation for consulting work