International buyers visiting Lifestyle Vietnam fair come from over 40 countries and territories. The main buyers are importers, wholesalers, global distribution chains, shopping centers, specialized retail chains, and online sales companies. Japan, America, and Europe are the largest customers coming to trade at the fair, of which Japanese customers account for about 18%, American customers account for about 12%. Customers from Europe are mainly from Germany, England, France, Italy, Spain, the Netherlands, and Denmark. There are also many customers from Australia, Mexico, Canada, and Korea. The number of visitors from BRICS countries (Brazil, Russia, India, China, South Africa) and Middle Eastern countries has also increased in recent years.
Big buyers such as IKEA, Carrefour, Aldi, Walmart, Target, Tesco, TJX, Woolworths, Costco, Home Depot, Ito-Yokado, ICA, Zara… have been customers of enterprises at Lifestyle Vietnam for many years. In the last ten fairs, nearly 20,000 international visitors came for trading at Lifestyle Vietnam.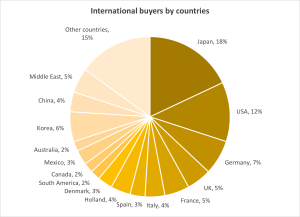 Lifestyle Vietnam 2024 started its global marketing campaign through many different channels and it targets to have at least 2,500 international buyers in 2020. Besides that, it also starts working with the potential buyers in Vietnam, including large retailers, importers, resorts, hotels, construction companies, design stores… to collect the needs and strengthen co-operation for the Lifestyle Vietnam 2024.